News
NEW!

The big big big catchup

Saturday November 10th: Good afternoon everyone. I've not updated this website since May, which is quite embarassing, and I really need to try to get things in order. I last left this in the run-up to Brighton Fringe, with various bits of advance media coverage on the page, and I really ought to finish this off.

Anyway, the main things that happened since then are:
I had a great run at Brighton Fringe with Waiting for Gandalf, getting four-star reviews from Broadway Baby (again) and The Reviews Hub. Also got extremely good coverage from the previews at the Assembly Rooms, which possibly had the best post-show discussion of the whole run. Many thanks once again to Mankind for giving this wonderful opportunity.
Haunting Julia had a good run at Durham Dramatic Society. I had to delegate a lot of the directing responsibilities owing to Brighton Fringe falling slap bang in the middle of the rehearsal period, but the play was left in excellent hands in my absence.
The unexpected development on the back of those two things is that I'm now involve in Theatre Elysium, a professional theatre company that set up last year. Their next production is The River by Jez Butterworth, and I'm doing the lighting and sound for this. It runs at Durham City Theatre on the 29th November - 1st December, followed by a final performance at Queen's Hall, Hexham, on the 5th December. Theatre Elysium will be producing their own web page imminently - in the meantime, here info about the play on their booking page.
However, the one thing I do not have coming up is a mainstream production for Durham Dramatic Society 2019. I opted out of this earlier in the year so that I can spend more time focusing on longer-term creative projects. I have various ideas in the pipeline, but nothing is confirmed as of yet. As soon as I have anything to announce, I will update the site again. Before then, however, I will try to get the rest of the site updated too. But I have a big backlog to clear. I can see you smirking.
The big big big news
Sunday Feburary 4th: Yay! Some of you have already heard this unofficially, but I can finally announce this properly. I have been invited by Mankind to return Waiting for Gandalf to the Brighton Fringe in 2018. This will be at Sweet Werks on the 14th-20th May, and Mankind will be the producers.
If you know about Mankind's involvement in the Brighton Fringe, you will know why this is a big deal, but if you're not a Brighton Fringe regular, this will take a bit of explaining. Mankind is one of the few charities in the country who provide support to male victims of sexual abuse. One thing they do is raise awareness of the issue through theatre, and this came to prominence in 2016 when Patrick Sandford performed Groomed, a frank story of his own experiences. This was by far the best-reviewed play of the whole festival, and scooped just about every award going.
Also, Patrick Sandford himself is directing me. He is the former artistic director of The Nuffield Theatre, Southampton, so this is a huge deal too. I am writing this on the way back from Brighton, where we have just had our first rehearsal.
Since this is massive news, it's right at this point to thank those people who helped me get to this point.
Adrian Marks, of course, for writing this play and entrusting it to me in the first place.
Everyone at Durham Dramatic Society who let me use their theatre for rehearsals and previews.
Sweet Venues for having me at Brighton Fringe, without whom I would not have got the attention of Mankind.
Underground Venues for hosting me at Buxton Fringe before then, where I first developed the play that ended up in Brighton.
Richard Stamp, whose passing reference to my play in the Buxton Fringe recommendations for a different play persuaded me to take on the gamble of Brighton.
And, of course, I must thank Live Theatre for starting this all off. I know I frequently argue with them over theatre in general, but the fact remains that had they not invited to the same writers' group as Adrian Marks, I would never have known about this play.
Finally, apologies for anyone who expects by usual bitter and cynical rants, but I am going to do some inspirational quotes for a change. Here we go:
You know the saying about giving a good performance no matter how small the audience is? The one about you never know who's watching? That might sound like a platitude, but it's true. The performance I did at Brighton that landed me this breakthrough had an audience of three. Yes, three. (And that wasn't even the worst one.)
You do not need the approval of local cultural gatekeepers to get somewhere. In the five years I've been bringing my work to festival fringes, I have received no coverage from the local arts media (North East Theatre Guide excepted), and no support and next to no encouragement from the local new writing theatres. This is proof you can do it without.
Most importantly, you can do this on top of a full-time job. It requires a lot of energy and dedication, but it can be done. Don't let anyone tell make you think you're not a proper performer just because you haven't gone through a "proper" drama school route.
I will create a new Waiting for Gandalf page as soon as I can. I'm looking forward to May.
NEW!

I'm back

Sunday October 22nd: Don't worry, I'm not dead. I realise I haven't updated this web page in five months, which is a little embarrassing, but it turns out that the innocent-looking script of And A Nightingale Sang is actually a complete bastard to produce, especially if you're doing it properly and including the songs and you're doing the job of musical director as well as director. As well as half the job of theatre techie as no-one else knows how to program lighting and sound. Meanwhile, I was kept busy by a Buxton Fringe reprise of Waiting for Gandalf which was low-key but still took up time over the summer (although I got this review which made it worth it). Oh, and for some reason people keep inviting to review Edinburgh Fringe shows and that took up time as well.

But we made it and got one of the better-selling productions including a sell-out on the final evening. No sooner than that was sorted, however, the play for next year ran into complications. I'm not going to write a blow-by-blow account of what happened online because it's not worth the arseache. Anyway, we've ending up with Haunting Julia, and don't worry, this is on my list of plays I wanted to direct and not just something I was arm-twisted into doing. Auditions was probably take place probably in March. The good news is that there's no singing in this and it's a comparatively straightforward piece to produce. The bad news is that there's a cast of three men and there's an absolutely massive number of lines to learn. You have been warned.

However, I am in various discussions for other possible projects next year. I can't really talk about any of these yet - most are up in the air, and one or two involve inside information I've been asked not to disclose yet. But there's a lot of exciting options coming out of this, and I expect I will have something to announce soon. Possibly something major.

I'll try to get photos for And A Nightingale Sang up shortly. Keep your eyes peeled here for further announcements.
Update
Sunday May 21st: Realised I've not updated this site in ages, so I ought to keep you up to date. I don't have any major things to announce at the moment. I have various plans for new projects over the next year or so, but nothing is definite yet.
In the meantime, here's the main things that have been going on:
I now have a cast for And a Nightingale Sang, C. P. Taylor's wonderful play set on the home front in Tyneside over the second world war. You can find cast details and a general blurb on the production page. Rehearsals start on June 18th, after which more information will be added.
I am taking Waiting for Gandalf back for a two-performance run at the Buxton Fringe (entry here). It's a long story, but I'm doing this in the United Reformed Church blue room this time (venue 55c). Since it's more trouble than it's worth to ticket this, I'm going to treat this like the Free Fringe, which as we all know isn't really free and there's a collection on the way out, unless you wish to be glared at very harshly. The collection will go to Mankind, for reasons obvious to anyone who knows the play.
I am going to be directing the June play for Durham Dramatic Society in 2018. I am about to decide on a shortlist, and all being well I should know what I'll be doing by August.
And I think that's it. Cheery-bye.
Breaking news
Tuesday February 7th: Okay, since this has gone out to all members of the society, I think I can now announce this publicly. I've been talked into standing for Secretary of Durham Dramatic Society to replace Jennifer Gill who is standing down. This wasn't really part of my plans, but no-one else was coming forwards and somebody has to do it. Anyway, no-one else has stood, so this means I will be taking up the position after the AGM on the 10th March.
This position is about the number 3 or 4 position in Durham Dramatic Society, so I'm taking on quite a lot more responsibility. I do have various things in mind for what I want to do, but I will be going through those one thing at a time. Until then, I will try to enjoy my final few weeks of not being insanely busy.
Ho hum. And I thought I would be getting off the board of directors after my three-year term finished.
Just for fun ...
Tuesday December 27th: It's been rather quiet on this site since I got Waiting for Gandalf and The Gentleman of Russell Square out of the way. Don't worry, I've been planning plenty of things behind the scenes. Nothing in a state to announce publicly yet, but expect to have a few things to announce shortly. At some point, I will try to get some photos from the Silent Movie up on my site, as soon as I can chase them up. Anyone waiting for casting info for And a Nightingale Sang, no decision yet, but I expect casting to take place some time in May, so plenty of time yet. I will write my usual part descriptions closer to the time.
Whilst you're waiting, here's something I wrote just for fun: A Christmas Confession. Something a bit like a cross between It's a Wonderful Life and The Wicker Man, described as surprisingly dark, cynical and twisted by people who are somehow still surprised that I could be so dark, cynical or twisted. This will be found offensive by a lot of people. Don't say I didn't warn you.
Right, that's all for now. Go away.
Gandalf returns, silent movies and more ...
Sunday September 11th: Yes, long time no see. Been doing a lot of coverage of other people's work on my blog, but not much time updating this site. Better bring you up to date.
So, the most exciting news is over Waiting for Gandalf. As it says on that page, the ticket sales weren't great (to put it mildly), but I got excellent critical acclaim, including my first four-star review. And on the back of all this, I've got my first performance in Newcastle, something that's been elusive for years. It's at the Bridge Hotel as part of the Tolkien weekend next door in Newcastle Castle. The performance is at 4 p.m. on Saturday 24th September. It's free entry with a collection for charity afterwards, but you need to book on this page.
And coming up after that is a brand new project, The Gentleman of Russell Square. This is going to be a silent movie on stage, and the first stage of this is a scratch performance of the first scene. I have one scratch performance confirmed at the City Theatre on the 28th October so far (which is open to DDS members), and if things go to plan, there will be another performance open to the public shortly after.
However, the bad news is that Howard and Mimi has been postponed indefinitely owing to circumstances outside my control. I am still intending to do this when the time is right, but I'm getting these other two projects out the way first.
Finally, I have my first confirmed play for 2017. It's And a Nightingale Sang, a lovely classic from C. P. Taylor. This will be done in September, and as this in when Durham hosts the Northern conference of the Little Theatre Guild, that's the play I'll be presenting to them. I'll try to get some casting information up soon. And I think that's it. So much for quiet time.
UPDATE 28/10: And I can now confirm the public showing. It's my very first performance at the Gala Theatre as part of Next Up ..., their scratch night. It's on 2nd November, evening starts 7.30 p.m., and I should be on around 8.30 p.m. If you don't believe me, look, here I am!
NEW!

And so it begins ...

Wednesday 11th May: Okay, it's been a long time since I last wrote something my news page, but that's because I've been kept busy with all my Brighton Fringe paperwork. But now that the public performances are about to begin, it's time to bring it all up to date. So, the Brighton Fringe play, Waiting for Gandalf will have the following performances:
A first preview at The Empty Shop tonight (Wednesday 11th May) at 6.30 p.m.
A second preview at Durham City Theatre a week tomorrow (Wednesday 19th May) at 7.30 p.m.
And then it's the big one. It's seven performances at the Brighton Fringe at Sweet Waterfront on the 23rd to 29th May.
The previews are free, with a collection for charity at the end. For details on tickets for the Brighton Fringe performances, production shots and more information, all this can be found on the Waiting for Gandalf page. However, the early exciting news is that I have been recommended by FringeReview, espeically as their Later Evening Theatre Pick. Wow.
Stay tuned for an exciting three weeks coming up ...
Cats and Canines and Conservatives
Monday 3rd March: I think I'm now able to make my second exciting announcement. It's taken a lot of hoops to get this far, but I can finally announce that I have been programmed to direct Howard and Mimi this July, on the 27th to 29th. This plan is still pending final confirmation of performing rights with the writer, Caroline Gold, but as she as given approval in principle I think I can now safely announce it. Some of you may recall I did half of this play as a reheased reading back in 2011, and the two character are a dog and a cat. So anyone who want to be in this play will need to do a lot of prancing up and down off furniture. I intend to get auditions scheduled in the next week.
However, the bad news is that my commitments in July means I will not be taking part in the Buxton Fringe this year. I will still be going as a punter, and I will of course do my usual theatre blogging on my other site, but you'll have to wait until next year at least before I'll bring something to Buxton again.
One other thing: before all of that, I have a quick project down at Saltburn. Alan Godfrey is putting of his play Girl Next Door, set in a selection meeting of a Conservative club, and I've designed the sound for this (and also created this poster, right). I'm also in this play, and for a change I'm not playing a social reject. This time, I'm playing a waste of space instead. Anyone in the vincinity of Saltburn can catch this on Thursday 17th March at Saltburn Community Theatre. Maybe see you there.
Update 16/03: I can now annouce the audition dates for Howard and Mimi: 1st April for the read-through and 14th April for the audition itself. Audition details now available here.
Brighton Fringe here I come!
Monday 2nd February: I've been dropping hints for ages about exciting announcements. I now finally have something I can tell you in public. I will be going to the Brighton Fringe with Waiting for Gandalf this May, having secured a slot at the brand-new Sweet Venues Brighton. For the majority of you who aren't following this, Sweet Venues is an Edinburgh Fringe venue, also active in their home city of Dundee, who are seeking to expand to Edinburgh this year. They're taking over management of the existing Dukebox and St. Andrew's Church venues, and creating two new spaces in the Waterfront Hotel, and apparently they were looking for acts to fill these spaces. Even so, they apparently had over 100 applications so it looks like it was contested.
So once again I dust off Adrian Marks's script and enter the world of Lord of the Rings superfan Kevin Brook. I will be performing for 7 nights (gulp) from the 23rd to the 29th of May at 9.15 in Waterfront 2. I will again be looking to arrange some sort of previews in the north-east, but I haven't even started on that yet. Anyway, you can keep up with everything on my Waiting for Gandalf page as the news comes.
Right, when do I panic?
Christmas versus Claus
Sunday 6th December: Quite a lot a major things still going on in the background, for both my "studio" play and other projects. But before 2015 ends, a small thing to round of the year ...
For Durham Dramatic Society's Christmas social, I'm going to do the first ever rehearsed reading of Christmas versus Claus, a rather twisted Christmas tale where Father Christmas has a run in with his hated rival, Santa Claus. What do you mean, you thought they're different names for the same person? Oh, woe betide anyone who makes that misunderstanding. Also in the story is Patch, an elf terrified of his control-freak boss, and Rudolph, a reindeer with serious self-esteem issues.
This is an internal social event on Friday 11th December, so it's open to DDS members, although I'm sure I can stretch this to friends and family of performers. Drop me a line if you want to come and I'm sure I'll be able to arrange something. For everyone else, I intend to add the beginning of the script to my samples and freebies once this is done. Hope you enjoy it.
UPDATE 13/12:Thanks to everyone who saw the run-through. For the rest of you, you can now see the first half of the play in my samples and freebies.
My 2016 play
Saturday 3rd October: Okay guys, I've embargoed this news for months, but since it was announced last night to a reception of sponsors with a journalist present, I think I can officially announce it.
Next year I am going to be directing Durham Dramatic Society's first "studio" play. Confusingly, this is going to be performed on exactly the same stage that everything else is performed, but the difference is that this will be performed out of the main season and will therefore be largely free of the commericial demands of the mainstream plays. I've shortlisted four plays which went to the Production Committee on Tuesday, and I expect one of them to be picked soon.
It is currently expected to be performed in late July next year. At present, I honestly have no idea what's going to be chosen. But whichever one it is, I can promise something quite different from anything you'll see in the main season.
My 2016 play
Saturday 3rd October: Okay guys, I've embargoed this news for months, but since it was announced last night to a reception of sponsors with a journalist present, I think I can officially announce it.
Next year I am going to be directing Durham Dramatic Society's first "studio" play. Confusingly, this is going to be performed on exactly the same stage that everything else is performed, but the difference is that this will be performed out of the main season and will therefore be largely free of the commericial demands of the mainstream plays. I've shortlisted four plays which went to the Production Committee on Tuesday, and I expect one of them to be picked soon.
It is currently expected to be performed in late July next year. At present, I honestly have no idea what's going to be chosen. But whichever one it is, I can promise something quite different from anything you'll see in the main season.
One down, one to go ...
Saturday 11th July: Pardon the lack of updates on this site for a while. All been busy busy busy, but as you can see, The Memory of Water is all done and dusted, which means that now it's on to A Nasty Little Play, which starts at Buxton next week. Eek. This time, I'm neither writer nor director, but I've taken on role as producer which means I've been responsible for organising everything with the venue and fringe organisers, as well as manage the publicity to make sure we get an audience. Which still takes up a lot of time. Oh, and I'm acting in it too, as if I wasn't busy enough.
Anyway, it's all quite exciting at the moment. As I mentioned before, we've been programmed in for four performances instead of three because Underground Venues thinks this show will sell well, and they could be right. We're doing pretty well with advance ticket sales, and bearing in mind it's normal for advance sales to be near zero (almost all tickets are sold immediately before the performance), this bodes well for a good turnout. We've also been named as a Daily Pick by FringeGuru which is quite exciting. I will admit I'm at a bit of an unfair advantage here because the editor, Richard Stamp, knows me though my theatre reviews on my other site, but I'm not going to argue. At least this time I know I'm being judged of previous work, unlike my mysterious recommendation from FringeReview back in 2013 who surely couldn't have seen anything I'd done before.
However, the bad news is that we've lost one of our previews here in Durham. We were hoping to do a preview at the City Theatre on Wednesday, but that's fallen foul of some building works that weren't supposed to shut the building down but have. Grr. So the only preview will be at Sacriston Old Church on the Monday, at 8 p.m. If you really can't make that date, contact me and I'll look at other plans.
I'll catch up with all my other projects once Buxton is out of the way. In particular, for all the actors and writers I'ev been in touch with for Pick 'n' Mix, I haven't forgotten about you. I intend to make proper plans for this in August, so please bear with me.
New project: Pick 'n' Mix
Monday 18th May: I know I've already got two things on the go, but by law I have to have three things on the go at all times. So with Waiting for Gandalf out of the way, I need a new project. And my new project is Pick 'n' Mix. The idea is that this will be a set of short plays of around 10 minutes. I am inspired by the brilliant Bite Size from Brighton, but I'm not trying to be Bite-Size and I intend most or all of these plays to be ones I found from other sources.
Provisionally, I expect this to be performed in late November or early December at The Empty Shop. I am especially keen to get students from Durham University involved, and I've alrady had a good response (many thanks to Durham Student Theatre), but it's open for anyone to get involved. I might get people together next month, but I intend to do proper casting in October at the start of the academic year. I will also choose a selection of plays at this point to work with who I have available.
If you're interested, get in touch and I will bear you in mind.
A Nasty Little Play comes to Buxton
Friday 3rd April: Ladies and gentlemen, I can finally make a public announcement. Some eagle-eyed viewers who've been checking the Buxton Fringe listings page might know this already, but for the rest of you: I am in the programme for this year's Buxton Fringe with A Nasty Little Play. So that's three my third play at Underground Venues. Sort of.
I say "sort of", because although it's in the programme as "Chris Neville-Smith", I will only have a minor role this time. With me directing The Memory of Water in June, I don't have time to take charge of a Buxton play too. So instead, Alan Godfrey is going to direct a play he's written. I have agreed for it to be produced under my name, and I will remain in charge of all the administrative stuff with the fringe and venue as I'm now a bit of an expert with that. I will also probably have a small acting part in the play.
Details will appear on this page as they arrive. I expect to know the dates in the next couple of weeks. In the meantime, I can tell you that the play is set in a 1950s sex shop, where it was quite shocking that anyone should posess a photo where you can see a lady's front bottom. But I must give you a content advisory: this play contains no sex, no nudity, no violence and only some very mild bad language. Sorry.
UPDATE 18/05: And we have dates: 19th to 22nd July. Yes, we're on for four performances instead of the usual three. Seems Undergound Venues like us.
Our House and the annual awards
Friday 13th March: Holy crap, Our House scooped four of the eight DDS Oscars tonight. Same caveats apply as last year: I don't think First Past the Post is the most reliable voting system, and I suspect plays on later in the season are more likely to do well as people have a more recent memory of the play. But, caveats aside ...
Lesley Anderson got best lead actress for May
Jayne Stopford-Taylor got best supporting actress for Sonja/Candace
Kayleigh Know got best female character actor for Sylvia/Sharon
Zam Tee got best cameo.
Didn't get best play this year. That went to Arsenic and Old Lace, so congratulations to Kate Lawrie for that. But still, err, wow.
UPDATE 22/03: And, er, wow again. Waiting for Gandalf now won the Adjudicator's Award at Saltburn Drama Festival. It was also shortlisted for Most Effective Staging and Best Actor. And - more importantly - it seems to have gone down very well in Saltburn. Okay, I'm at a bit of an advantage with Saltburn because it's my home town and they pretty much consider me one of theirs, but all the same, a pretty pleasing eight days for me.
February update: Our House pics, Gandalf again, and auditions
Saturday 7th February 2015: Have I really not updated since since October. Whoah. Not much to report, I've been having a break since Our House. However, a few bits of news.
I've finally uploaded a selection of photos for Our House for your nostalgia. Also features new exciting photo gallery tool which ought to be an improvement on the old clumsier method.
I am reviving Waiting for Gandalf and taking this to Saltburn Drama Festival in March. I should have an exact day soon. I'm also haping to get some stills up on the Gandalf page soon, but that requires watching a video of myself. That is torture.
I've counted myself out of directing a mainstream play for Durham Dramatic Society in 2016 - I was planning to take a year out anyway, but after last year's shenannagins, I really can't be bothered with the play selection process for a second year. (Any DDS members will already have seen the official version of events in the newsletter. Hmmm. Hmmm. Hmmm. Hmmm. Anyone who really want to know my version of events is welcome to ask. If I can be bothered.) I hope to use this time to something more exciting and original instead, and there's a few promising leads, but nothing confirmed just yet.
Finally, I've finally set dates for reading and audition for The Memory of Water. Read through is on Tuesday February 24th and the auditions are on Thursday March 5th. (If you're wondering why the audition is on a Thursday and not the usual Tuesday, I agreed to have reading and audition on different dates because it seems to be causing difficulties for people who are regularly busy on Tuesdays - we'll see if it does any good.)
And I think that's it. Various things in the pipeline, but I'll let you know if and when anything comes of it.
UPDATE 21/2: And I now have a date. Wednesday 18th March. I'm expecting one other play on the same evening as mine, so anyone who comes along gets a double bill.
UPDATE 22/2: And I've now got a few pics of Waiting for Gandalf. Mostly video stills this time - never got round to doing proper pics. But that's the best you're getting for now. Here they are.
Next year's play and this year's play
Sunday 26th October 2014: Sorry for the lack of updates to this site over the last couple of months. I was supposed to have a relaxing break after the end of Waiting for Gandalf, but then someone dropped out of Rope, I had to step in, and I'm barely had time to do my washing, let alone keep this website updated.
However, I can announce that next year's play for Durham Dramatic Society is Shelagh Stephenson's The Memory of Water, on the 21st to 27th June 2015. Long story here. I am happy to do this play, but I am not at all happy with the play selection process that led to this. I won't go into the details here - is anyone wants to know exactly what happened, ask me and I will bore the pants off you with a blow-blow account. Anyway, the new page for the play is here, and details about the play and casting will appear in due course.
I've also done a couple of other new pages to the site. I've created a new page about how I cast plays (short version: if you want to be in my play, tell me - don't wait for me to ask you), and another page for anyone who wants to submit a script.
But the main event right now is Our House. Rehearsals are well underway. It's an easier play to choreograph than Improbable Fiction, so I'm not tearing my hair out quite so spectacularly. but here's a picture of a typical movement plot to give you an idea of how complicated it still is. Right now I'm picking music for the play. Yesterday I had the pleasure of listening to brass band music - today I'm on to shit hip-hop. Lucky, lucky me.
You can now find a complete list of cast and almost complete list of crew on the Our House page. Tickets go on sale to members tomorrow (Monday 27th). Not sure when they go on sale to the public - I'll announce it when they are.
And finally, for DDS members coming to the Christmas party, I am presenting my new short play Christmas versus Claus, about a bitter power struggle between Father Christmas and his hated rival Santa Claus. What do you mean "I thought they were the same person?" Honestly, some people.
UPDATE 06/11/14: Some rehearsal photos are now available. Enjoy.
chrisnevillesmith.info is moving
Thursday 14th August: I promise this is going to be by only technical post for the long time - seriously, who's interested in that apart from me - but I have a technical announcement about this website. Due to Pay As You Host shutting down imminently, I've had to hastily move all of my content over to a new provider (EUKhost). If you are reading this, congratulations - you've made it to the new site
Hopefully, everything should work fine on the new host and it shouldn't look any different to the old one, but there may be technical issues. If you spot any problems, please let me know. In particular, it's possible that my e-mail could be out of action for a few days (including any direct e-mails sent to my chrisnevillesmith.info address). If you urgently need to contact me, it's safest to do it through my Theatre Blog page for the next few days.
The good news is that my new hosts are using considerably more up-to-date software than my old hosts, so this expands what I can do with this site. At some point, I hope to overhaul this site to a new all-singing all-dancing one, but in the meantime, I'll be happy if it simply works.
Waiting for Gandalf is nominated for Best New Writing at Buxton Fringe 2014
Sunday 27th July: Sorry I've been rather quiet since the end of my involvement in the Buxton Fringe. As you may have guessed, I've been kind of hibernating since I got home. But I'm breaking my silence to deliver the fantastic news that Adrian Marks was nominated for Best New Writing at the Buxton Fringe. This award is specifically fop the writing so credit goes to him and not me, but I'm absolutely thrilled to have been part of this.
Other than that, it's been a bit of a mixed bag. Unfortunately, the Buxton Fringe reviewer did not share the enthusiasm that the judging panel did, and the review was an unenthusiastic one. That was perhaps an unavoidable risk, as it's not a play with a nice ending, and it's not possible to warn audiences just how nasty the ending is without spoiling it. Ho hum, not much I can do about that. Anyway, this meant the ticket sales for my second performance were a bit disappointing for a peak slot, and the third performance wasn't looking great either.
However, on the last night the Underground Venues volunteers decided to go inside and do a dance in the hope it would drag some people in. Miraculously, that got in another eight random people. They laughed at all the funny bits - fortunately stopping just in time for the harrowing bit - and it was my best performance ever. I suspect the success of this marketing tactic may be a fluke more than anything else, but thanks all the same. Anyway, the net result is the ticket numbers were about the same as The First Sign of Madness, the revenue was slightly higher (as it was a higher-priced 45-minute show this time), but there was a slightly higher shortfall from venue hire + registration owing to the more expensive slot. On the whole, the figures are about the same as last year.
So, that's all folks. Waiting for Gandalf is done. The next project where I am in charge is Our House this November. But before then I'm going to be lighting designer for Rope in September. Oh, and I'm acting in the play too because someone dropped out and I was the only viable replacement. So all the remains is for me to thank everyone who came to see Waiting for Gandalf, both at Buxton and the previews - and of course many many thanks to Adrian Marks for allowing me to perform this. I am in discussions over possibilities for 2015 - but in the meantime, I'm on holiday.
One day to go ...
13th July: Okay, this is it. Previews are over, Buxton performances start tomorrow. No more allowances for local enthusiasm, I'm up against the professionals now. However, there was a good turnout to all three previews. Many thanks to everyone who came to these, as this gave me good practice to get my performace as good as can be.
I have three final bits of news:
I have one final preview, in Buxton, at a new event called Fringe at Five. This is where Fringe particiants can do 15 minutes from their piece as a teaser at the Pavillion Gardens bandstand. So firstly we have choir at 5.00 p.m., then Augustus Stephens with a bit from This Way Madness Lies at 5.15, then it's me at 5.25. Augustus Stephens, by the way, is the bloke from The Naked Rambler, but he promises everyone that he will tone down this version - I'd rather he didn't cause everyone to run away screaming before my bit.
I've had a write-up of my play over at the British Theatre Guide. Don't get too excited, they write up everyone who sends them a press release, and it's pretty much a re-hash of what I sent them, but hey, I'm not complaining.
Oh, and apparently I'm going to be recommended by Almost Random Theatre in Oxford. To be honest, I've no idea how they've heard of me, let alone why they've chosen to recommend me - the best clue I've found is that they went to the Oxford Fringe using the same venue chain that I use - but, hey, I'm not going to argue.
Right, time for a final publicity push in the Pavillion Gardens for Fringe Sunday.
Waiting for Gandalf previews announced
31st May: Ladies and gentlemen, I now have the full line-up of previews and performances for Waiting for Gandalf. Before I go to Buxton, you can catch in in County Durham at the follwing places:
The Empty Shop: Wednesday 2nd July.
The Old Church, Sacriston: Monday 7th July.
City Theatre, Durham: Thursday 10th July.
And then it tours to Buxton for the 14th-16th July. Details, as always, are on my Waiting for Gandalf page. Stay tuned for more details of times and tickets as they're confirmed.
My plans for 2015 begin ...
22nd April: I know 2014 has only just got going, but I can already announce that I have just committed to doing the June 2015 play for Durham Dramatic Society, which will be running from the 21st to the 27th. Before that, it's Waiting for Gandalf (14th-16th July) and Our House (16th-22nd November), but, yes, I really do have to plan things that far ahead. As usual, I will be shortlisting four plays, a reading committee will pick one, and I should be able to announce which play it is round about August.
Other interesting bit of news is that there will be a sixth production in 2015 directed by Kate Lawrie, which will be something riskier than our usual mainstream programme. This too will be chosen from a shortlist of four, but it's quite exciting that DDS is finally branching out into something more adventurous. Anyway, on both points, watch this space.
I am returning to Buxton with Waiting for Gandalf
29th March: It's all confirmed, I can now announce the big news. I am returning to Underground Venues at the Buxton Fringe with Waiting for Gandalf, which you may remember I did as a workshop-level performance last October. I was offered a place last Thursday, and confirmed a perfomance rights agreement with Adrian Marks, so I will be off at some point in July. Tess Hagger will also reprise her role as director.
Over the next few weeks, I will be updating the site with further details as they come in. I expect to know dates by mid-April, and I hope to arrange previews soon too. In the meantime, I am allowing myself a brief moment to savour the calm - you have no idea how jittery I've been this week waiting for the answer - before I embark my usual pre-fringe two months of being an overstressed madman.
UPDATE 01/04: And it's official - here it is in the Fringe programme (click for larger image). Not an April Fool - you can check it for yourself here.
UPDATE 06/04: And now the Waiting for Gandalf page is up on this site. It's just a holding page right now, but details will be going there as and when I get them.
NEW! UPDATE 22/04: And I can now announce the dates and times: Monday 14th (10.30 p.m.), Tuesday 15th (7.30 p.m.) and Wednesday 16th (10.30 p.m again).
Improbable Fiction voted best DDS production of 2013
Saturday 15th March: Apparently, at yesterday's Annual General Meeting, my production of Improbable Fiction got voted best production of last year. Now, before you get too excited, I'm a bit cautious about these votes and don't read too much into them. I personally think First Past the Post is unreliable in elections with more than two options, and I think we should use Alternative Vote like they do in the real Oscars. And it's fair to point out that, all other things being equal, productions later in the year are at an advantage because voters are more likely to remember those.
But still, I don't want to be left out of the excitement, so ... woo woo yay yay woo yay woo we won.
DDS's charitable status: What it means, and why you should vote yes
Saturday 8th March: Next Friday, a proposal will be up at Durham Dramatic Society's AGM to adopt a new constitution and become a charity. I have spent some time trawling through these documents reading every bit of fine print, because I like this sort of thing. For the rest of you, that might seem excruciatingly boring to contemplate, so this is where I explain what this means for DDS, and why it's important we vote this through.
The short version is that, in spite of the new articles of association being several times longer than the old one, it will mean little or no change to how DDS operates. The biggest change is that, once you become a charity, you must stick to the objects of your society. For us, that means DDS exists to put on plays, and all funds going into the society must be used for that purpose. We will no longer have the option to become, say, another pub. Other than that, things pretty much stay as they are - it's just that rules on matters such as conflict of interest are a lot less ambiguous. The only sort-of change is the introduction of a few new procedures such as proxy voting - but, as a limited company, we have to do all these things anyway, charity or not.
So why is this a big deal? The reason we need to do this is, to carry on doing what we're doing, we need the protection offered by charitable status. So far, we have got 100% rate relief from the council out of good will. There is no guarantee we will continue to get this discretionary relief, but the worst that could happen as a charity is that we'd drop to the legal minimum of 80% relief. We should of course try to keep 100% relief, but a fall of 20% would be bearable. A fall off the whole 100% would put us in serious trouble.
More importantly, however, it gives us some protection we don't have at the moment. When the City Theatre first started, Fowler's Yard was a largely forgotten back street in Durham. It is now on the way up, which is great news - but it is just about possible that someone will set their sights on taking over our building, for perhaps a restaurant or another chain pub, and leave us with nowhere. Attempted takeovers of societies have been known to happen, and it gets nasty when it does. As a charity, selling off assess for non-charitable aims is not allowed, and the Charity Commission would step in and stop it if this was tried. This may sound paranoid, but the more upmarket Fowler's Yard becomes, the more likely it is someone will attempt this if they can get away with it.
I don't normally canvass members how to vote in AGMs, but on this occasion I would urge everyone to vote yes. There are some valid opinions on whether the society should be governed the way it currently is, but that debate can wait for another day. Charitable status, on the other hand, has been dragging on for years and we cannot risk letting this drag on any longer. If you're coming to the meeting, I hope you'll vote yes. If you're not, I hope you'll vote yes through the proxy form. If this goes through, we will probably not notice much difference. If we don't, we may regret it later.
(This is my opinion in a personal capacity and not in my capacity as a director-elect of the society.)
UPDATE 15/03: It passed.
Dates confirmed for A Doctor's Duty
Thursday 27th February: Before I embark on any more full-length plays or festival fringe projects, I've got a small thing to keep me busy. I am assistant director for Luigi Pirandello's A Doctor's Duty, with Alan Godfrey in charge. Anyone who's followed my casting call will know that this involved a doctor treating a man who shot himself after killing another man in semi-self-defence, and obvious question was how killing someone can only be "semi" self-defence. Well, I now have the answer to that, but rather than explain this spoiler to you, come along and see it.
It will be performed to the public on two occasions:
Thursday 20th March, Saltburn Drama Festival: Evening starts 7.30 p.m., with at least one other play that evening.
Sunday 23rd March, City Theatre, Durham: Stand-alone performance at 2.30 2.00 p.m., for anyone not in easy reach of Saltburn.
For DDS members, there will also be the usual open rehearsal after the AGM on the 14th March. Details of how to get tickets for the two public performances are coming shortly.
UPDATE 06/02: Slight change of plan. Sunday performance now 2.00 p.m. instead of 2.30 p.m. Luckily I haven't started on the flyers yet.
I am joining the directors of Durham Dramatic Society
Sunday 23rd February: Small bit of news with what I'm up to in Durham Dramatic Society. In a moment of weakness, I agreed to stand as a diector of Durham Drmatic Society Limited. And by "director" I mean company director, rather than the a director director. I'm already a director director. Anyway, the position was uncontested which means I get elected without a vote. Personally, I think that we should have RON in uncontested elections, but that's the way it is. I take up office on the 14th March.
What does this mean for what I'm putting on stage? In the short term, not much. A lot of the work is going to be on the administrative side, and artistcally I will continue doing what I've been doing before. But the buck stops with the directors and not the production committee, and the key one is finance. Now matter how much you want to direct what you like on stage, the thing you cannot ignore is ticket sales. Should we rely on safe but unadventurous plays for a steady stream of income? Or do we need to reach out to a new audience with bolder plays?
This and many other tough decisions lie ahead. And like it or not, I'm now going to be part of making them.
At last! The site updates are complete
Sunday 26th January 2014: Okay, it's the things that nobody who's anybody has been eagerly awaiting - the site updates are complete. In fact, I completed the updates last weekend, but it's taken me a another week to get round to saying so. Anyway, the new goodies to enjoy are:
First of all, the exciting new scrolling banner on this page and every page, which you've probably already noticed.
I've updated the About me page to catch up on all the exciting things I've been doing since I originally set this site up.
Pictures from Improbable Fiction are now available online. These are bandwidth-friendly low-resolution pictures - ask me or Wendy Smith if you want the original high-resolution ones for printing.
Also finally uploaded some pictures from just July's Buxton Fringe excursion with The First Sign of Madness. Pictures of the actual play are in the Gallery page (from 2011), so this time it's all the antics that getting a fringe play going entails.
I've also updated the Gallery page itself to include the new photos.
I'm making my arrangement of There'll be Light and the End of the Tunnel available for anyone who needs for their own production of Improbable Fiction. However, as the song itself isn't mine, I'm not making it available to download - you'll need to contact me and ask me. Speaking of which ...
I've overhauled the Contact Me page to include some anti-spam features and a new e-mail address for myself, but that is only of interest to people who understand the thrill of getting something to work after you've spent hours struggling with the coding.
Oh, bloody hell, these bullet points are laid out horribly, aren't they? Guess that's next on my list of things to fix.
I've updated my policy for unsolicited scripts, because believe it or not, I am getting the occasional one.
Last but not least ‐ oh, I will never live down the shame ‐ I have set up a Twitter feed. This is a collated feed of updates to both this site and my theatre blog, for the benefit of people who are seemingly incapable of following anything that hasn't been announced on Facebook or Twitter. But don't worry about following it though ‐ you won't find anything on my Twitter feed that doesn't also get announced on the proper website. If you've got too much spare time and you absolutely must know how I use my Twitter account, you can read the Twitter policy.
Other than that, it's all been a bit quiet. Come back in a month's time and I might have something worth announcing.
UPDATE 25/02: Bullet points are now fixed - should apply through the whole site. Please let me know if a page has broken.
A Doctor's Duty
Wednesday 22nd January 2014: Quick casting call for the upcoming DDS one-act play to Saltburn, which I appear to be assistant director of.
Alan Godfrey is taking Luigi Pirandello's A Doctor's Duty to Saltburn Drama Festival in mid-March. This will be a one-off performance, but combined with performaces in Durham this works out at about three. I haven't yet had a chance to read this script, but apparently the plot revolves around a doctor considering whether to treat a man who wounded himself and killed another man in semi-self-defence. And before you ask, yes, I'm not sure what's meant by "semi-self-defence" either, but I'll have fun finding out.
Anyway, if you're interested, you need to let me or Alan know round about now. Sorry for the extremely short notice, but we've had a narrow window forced upon us by the casting schedule for other plays. There's 7 parts up for grabs, but hurry, hurry, hurry, they're going fast
UPDATE 26/01: That's it, time's up. The cast is now confirmed as Kritian Colling, Hazel Geldard, Heather Prestwich, Mike Smith and Caroline Chapman. Announcements on performances will come soon.
Urgh
Monday 2nd December: So, there you go. My directorial début for a first full-length play is over. I have set at least the next week aside for hibernating and zombie impressions.
Anyway, it looks like things went down well. Improbable Fiction played to full or nearly full houses for five of the seven performances. That is itself doesn't prove anything other than the play/writer being popular - that credit firmly belongs with Mr. Ayckbourn - but more promising was the late surge in sales that pushed Monday, Thursday and Friday to nearly full houses quite late on. That is generally a sign that you've got good word-of-mouth publicity in your favour.
My next committed project is John Godber's Our House on the 16th-22nd November next year. However, I have no intention of twiddling my thumbs until then, and I have dome other unconfirmed projects in mind that I'll announce as and when I can can confirm them. In the meantime, I intend to overhaul this site now that I have a spare moment, so watch this space for new exciting useless novelties.
UPDATE 18/01: The pictures from the play are now available. Enjoy them here.
At last! Tickets are on sale!
Monday 4th November: I've been a bit quiet lately because all my time has been eaten up directing Improbable Fiction. I've just been through the stage where I wondered why the hell I chose something so complicated to direct, and not some piss-easy three-hander where everyone just sits and talks. But things started coming together tonight, so this is a good time to tell you that tickets are now on sale. And you can get them from the Gala Theatre Box Office in person, by phone on 03000 266600, or online from this page.
In the meantime, here's a picture of a typical movement plan on one page, just so you can get an idea of how simple it is to move people about on such a small page.
UPDATE 18/11: Holy crap, Sunday is already two seats away from a sell-out. Not sure what the situation is on other days, but you might want to get a move on.
UPDATE 26/11: Good God, last night (Monday) was one seat away from a sell-out, and Wednesday's sold out too. I think there's plenty of tickets on Saturday, but you'd better get a move on.
I am on doolee.com
Saturday 14th September: Chance discovery today. I've found out I am now listed on doollee.com, the playwright database. Don't know for certain how this happened, but my guess is that the guy who maintains this went through the Buxton Fringe listings and added anyone who wasn't already in the database. Now, the requirement to get on to this database is that you have to had a play performed, which isn't a terribly high hurdle, but it does mean I'm on the same list as giants such as Alan Ayckbourn and John Godber and Lee Hall. There again, this list also includes the writer of some god-awful plays I've seen at various fringes, so don't get too excited.
I suppose I'd better get in touch and fill in the gaps now. Anyway, that's another method at my disposal to make myself look more important than I really am.
The 2014 plays have been chosen, and my play is ...
Thursday 15th August: ... [Drum roll] ... Our House, by John Godber. This is a play he wrote in 2001, about an elderly couple who lived their whole married life in the same house. At first, the play goes back and forth to flashbacks of earlier, happier days in their mining village. But as the story progresses back to the present, and the community disintegrates after the pits close, the memories become quite different. Oh, and let's get this out of the way. It has absolutely nothing in common with the Madness song of the same name. And no, I'm not going to play that song as opening music, that would ruin the play.
Commiserations to Harold Brighouse, Jack Shepherd and C. P. Taylor whose plays The Game, Only When I Laugh and And a Nightingale Sang didn't make it beyond the shortlist. Maybe another year. Our House will be performed in late November.
The other plays in the 2014 season are: The Odd Couple (female version) (February), Arsenic and Old Lace (April), Heroes (June), and Rope (September).
Waiting for Gandalf
Saturday 10th August: Whilst I'm waiting for rehearsals to begin for Improbable Fiction, I have embarked on another project: Waiting for Gandalf. This is a cracking little play written by Adrian Marks, who attended the Live Writers' Group with me back in 2011, which I want to perform. In fact, I've been trying to do this for several months, but kept postponing it and postponing it again. But at last I've got it arranged. If all goes well, I will be performing this on Tuesday 22nd October at the Cumberland Arms, Newcastle.
Details will be appearing shortly on the Productions page, as soon as I've updated it.
UPDATE 07/10/13: I have an extra performance arranged. Friday 25th October at the City Theatre for DDS members. The usual 7.30 p.m. for 8.00.
Goodbye Madness, hello Ayckbourn
Tuesday 9th July: Okay, that's it. The Buxton Fringe run of the First Sign of Madness is finished. Based on provisional figures, I sold enough tickets to cover venue guarantee and registration cost, and apparently, that's good. Thanks to everyone in the north-east who came to the previews, everyone in Buxton who saw it there, and special thanks to everyone who actually journeyed to Buxton in order to see me specially. And of course thanks to Nicki and Alan for reprising their roles. I'll aim to get the web page updated in the next few days with the review and stuff.
But there's no rest for the wicked, because it's already time to cast my next committed play, which is Alan Ayckbourn's Improbable Fiction. Details about auditioning are here. It's the reading tonight and the audition itself Thursday next week (18th).
There's other stuff I'm badly behind on too, but I'm still not out of Fringe mode yet.
Err, wow
Tuesday 5th June: Small bit of unexpected exciting news. FringeReview, probably the 3rd or 4th most prestigious publication that reviews plays at Fringe Festival, has made a list of early recommendations for the Buxton Fringe, and I'm on the list. That's a shortlist of 10 out of 55 plays, which apparently puts my play in the top 20% of things to watch. What's more, at least half the plays on that list I know are well-established groups that are known and highly thought of in Buxton.
This has come as a bit of a surprise, because I had no idea the people at FringeReview had even heard of me, let alone have opinions of my writing. I vaguely remember speaking to someone last year who might have been a reviewer for FringeReview, but I could be on completely the wrong track. Still, I'm very grateful for the endorsement.
In the meantime, I can now announce the first preview. It is at the The Empty Shop on Tuesday 18th June at 7.30 p.m. Admission is free, but donations are welcome. This is the Fringe definition of "welcome", which means that if you do not leave a donation at the end you will be glared at very harshly.
Oh, and bookings for Buxton have now opened too. You can book here. Don't worry too much about advance booking though. It's rare for Buxton Fringe plays to sell out this far in advance. If we're anywhere near selling out, I'll warn you.
UPDATE 09/06: I can now announce that the other preview will be at the City Theatre on Sunday 30th June. Exact time and price is yet to be confirmed, but it's coming. If you have a choice between the two, go to this one because it will be the more polished performance.
UPDATE 15/06: One final preview for you: Middlesbrough Little Theatre club room on the 26th June. This is a semi-private performace primarily aimed at Middlesbrough Little Theatre members, which Nicki is part of. However, if you really really want to see this and you can't make it to Durham or Buxton, ask and I may be able to bend the rules.
And my full-length play for 2014 is ...
Friday 17th May: ... I don't know, and I won't know until August. But I've been allocated the November slot for 2014, so that's when you'll see my follow-up to Improbable Fiction, whatever it turns out to be.
Eeek, better get a move on choosing plays to shortlist.
The First Sign of Madness is coming to Buxton!
Thursday 28th March: Okay everyone, I have exciting news. I can now announce that The First Sign of Madness will be touring to the Buxton Fringe this July as part of Underground Venues' 2013 programme. And if you're wondering what's so exciting about Underground Venues, this is the place where everybody who's anybody coming to Buxton wants to perform. I'd like to think the managers of the venue were wowed by the script or felt impressed with what I've organised before - however, I'm also aware they might have gone through the form and gone "Hmm ... lighting requirements: none, sound requirements: none, set needed: one park bench, dates available: any - great, you're in." Anyway, whatever the reason, it worked.
I got the news at 2.00 p.m. on Thursday and I've completed the paperwork today. Nicki Noble (nee Doyle) is reprising her role as Joanna from the 2011 revival. At the moment, I don't have exact dates, but I will announce them as soon as I get them (probably mid-late April). I am looking to do preview performances in the north-east before then, but I'll get that arranged as soon as I know which dates I'm working to. I'll aim to get all details on the productions page as and when they come. Damn, I've got a lot of work to do getting this site updated.
UPDATE 26/04/13: I now have confirmed dates: Thursday 4th - Saturday 6th July, 5 p.m. on the first two days, 2 p.m. on the last. I've now also started a web page here, which will grow in due course.
Brother and Sister
Wednesday 13th March: For the last month or so, my main project has been assistant directing a play going to Saltburn Drama Festival. It's called Brother and Sister, which is a 18th-century German play by Johann Wolfgang von Goethe, best known for The Faust. It's directed by Alan Godfrey, who translated and adapted the original German text. I will be on stage with the much sought-after part of Man Sitting In Wings With Eyes Glued To Script Just In Case. Just a couple of reassurances for anyone with concerns: 1) This play does not have incest in it (although that comes down to a debatable technicality); and 2) unlike a lot of early plays, this is quite a nice easy one to follow - you don't have to sit in the dark furtive glancing at your watch every five minutes and wondering what the hell's going on.
Anway, there a three performances. Firstly, we are showing on Friday 15th February as part of a double-bill with the hugely popular annual stage production, the Durham Dramatic Society annual general meeting, where members will be treated to not only this play but also timeless classics such as Apologies for Absence, Minutes of the Last Meeting, the Accounts and any other Business, starting at 7.30. Then it's off to Saltburn Community Theatre for the festival proper on Wednesday 20th March, on the same night as the 53 Drama Group Youth with "A Year and a Day", again starting 7.30. If you are neither a member of Durham Dramatic Society nor in reach of Saltburn, there will be a final performance at the old church in Sacriston on the afternoon of Sunday 24th March (exact time TBC). This is a lovely new arts venue that could do with support so please check this out.
Sorry for the short notice. I will try to keep this site more up to date in future.
And now on to Sunderland ...

Saturday 5th January 2013: I can now reveal that my writing is making its first outing to Sunderland. The Royalty Theatre are interested in Celebrity Ghost Patrol Live, and have asked me to bring it to a reading on the 1st February. Apparently I'm down as a local award-winning playwright, which techinically speaking is a dubious claim because the awards I got at drama festivals weren't related to my writing; and my successes in writing so far, whilst they include getting to the finals of two major competitions, strictly speaking don't constitute winning awards. But I'm not going to argue that point too much.

Anyway, it's going to a social reading on the 1st February at the Royalty Theatre. The bad news is that this is one of their internal events so it's only open to members of the Royalty Theatre, which I think totals a maximum of four people who might be reading this site. However, apparently social readings are the first step towards play selection for studio productions, so who knows, it might get performed in Sunderland.
I may have another exiciting announcement soon, but this will have to keep you going for now.

27 Wagons photos are up. At last.

Sunday 25th October 2012: Okay, It's taken me two months but I've finally done it. The photos from 27 Wagons Full of Cotton are finally available to view on the Gallery page. Many thanks to Janiece Spence (again) for taking the photos and apologies that it's taken so long.
Next time I will be quicker, I promise.

A chance to see Macbeth in Limericks
Tuesday 16th October: If you've been reading Macbeth in Five Minutes in Limericks and enjoyed it but felt that reading it on paper just wasn't enough, here comes a rare chance to see it in action. On Thursday 25th October, I'm taking part in an event called Script Tease, which invovles seven of us from the 2011 Live Theatre Writers' group putting on script-in-hand performances of 10-minutes plays. I'll have to give credit to the others for organising this, because I've been kept busy with 27 Wagons Full of Cotton, then I was acting in The Rules of the Game, and I clearly hadn't learnt my lesson because I then did a DDS members' evening last Friday and now I've got to organise this.
Anyway, it's at 7.30 p.m. at the Cumberland Arms in Ouseburn, which is a very obscure location between Byker and Newcastle. Tickets are £3 on the door, apparently. If one play isn't enough, I promise you that the other plays are pretty good too. Although I should warn you that some bits contain strong language. And I should also warn you that when I say strong language, I'm really not kidding. It may even beat the South Park Movie.
Once I've got this out of the way, I may even try to got this site updated. I still haven't uploaded the 27 Wagons photos. Maybe next week.

And my first full-length play is ...
Tuesday 14th August: ... Improbable Fiction, by Alan Ayckbourn, coming to the City Theatre in November/December 2013. Congratulations to Mr. Ayckbourn for making it past the reading committee. Commiserations to John Godber (Teechers), C. P. Taylor (And A Nightingale Sang) and Susan Glaspell (Alison's House) who missed out - maybe another year.
Improbable Fiction is a nice little play from 2005 about a writers' circle. Act I is quite conventional scene where the writers' cricle have their meeting, but it's only in Act II when- ... Ah, but that would be spoiling things if I told you, wouldn't it?  Expect much more detail about this play closer to the time. But right now, I've got 27 Wagons to keep me busy. More on that soon.
I am a People's Play finalist!
Friday 6th July: Apologies for a brief lapse in my no-blowing-my-own-trumpet-on-this-site policy, but today I received the absolutely thrilling news that one of my plays, The Great Outdoors (a dark comedy set on a corporate bonding campaign) has reached the last four in the bi-annual and apparently highly prestigious People's Play competition. Still pinching myself to check this isn't just a dream.
Here's the bad news: the shortlist and winner were announced at the same time, and I wasn't the winner. The good news is that the winner is Kevan Ogden with this play Ersatz. He was on the Live Theatre Writers' Group with me, and although I haven't seen this play, I've read other plays of his and it's really promising. So this will be showing at the People's Theatre on the 20th-24th Novermber. I am thrilled by the news and I will of course recommend everyone sees this.
In view of the endorsement of my play, I will have another look at getting The Great Outdoors performed, but believe me, my schedule for next year is already pretty solid. Anyway, that's all for now. I am now going out to celebrate.

Twenty-Seven Wagons Full of Cotton

is coming


Sunday 1st July: Sorry for the slowness in keeping this site updated. I've been prompting in Seperate Tables, which has kept me extremely busy. But it's now finished, and things are back to some sort of normality. So, you remember I've been promising an exciting announcement since last November when this website began. It's a long story how I reached this point, but I can get straight to the point and announce it:

I am going to take Twenty-Seven Wagons Full of Cotton to Sedgefield Drama Festival this September. I have been telling everyone it's one of Tenessee Williams's most famous plays, but no-one I've spoken to has heard of it, so maybe it's not as famous as I thought. But it's a good play. It will be on one evening between the 10th and 14th September, but that has yet to be decided. More details and updates will follow in due course.
Celebrity Ghost Patrol Live comes to the stage!

Thursday 22nd March: As widely hinted, I have finally got round to putting my new play, Celebrity Ghost Patrol Live, on to the stage. This was the play I developed as part of Live Theatre's writers' group last year, and I can probably sum this up as like Most Haunted, but with ghosts. I've been meaning to do something with this ever since it was written, but my hands have been full with one thing or another until now. I had a reading at The Empty Shop in January (that's the photo of people reading a script at the top of the page if you've been wondering), and this is the next stage.
This is being done as a rehearsed reading (techncially it's a theatre workshop rather than a rehearsed reading but it's far too boring to explain the difference). I'm mainly doing this to see how the play works out rather than present it as a finished product, but an audience will be welcome. As this is being done is an internal Durham Dramatic Society event, this technically means it's only open to DDS members to watch, but if you're not a member and want to see this (and I haven't spoken to you about this already), drop me a line and I'll see what I can do.
Anyway, barring unexpected setbacks, it should be going ahead on April 10th. (Yes, that's a Tuesday and not Friday like most rehearsed readings.) There won't be any charge to see this, other than possibly a request for a donation to Durham Dramatic Society, but if five coachloads turn up on the night, terms and conditions may suddenly apply.
Update: It's now going to be on May 1st. It's all been going well so far, but the cast want more time to get this ready. Don't worry, it'll be good.
Table seven or table by the window sir?

Thursday 1st March: As part of my training to direct full plays at Durham Dramatic Society, I've got to shadow a current director in a play, and I've decided to shadow Tess Hagger directing Separate Tables by Terrence Rattigan. It's essentailly two interlinked one-act plays, "Table by the Window" and "Table number seven", both set in the same hotel. Most of the characters in the play are a combination of permanent elderly guest, a returning couple and the hotel staff and appear in both acts, but in each of the acts the story centres on a different troubled couple.
Anyway, for any DDS members who are interested, there is a reading on Tuesday 6th March followed by auditions on Tuesday 13th March, both at 7.30 in the City Theatre. The reading is a no-obligation read-through for anyone considering auditioning, or any member who simply wants to see what the play's about or have a go at reading a script. Bribes will be taken for the audition in the usual manner.

Not quite a night at the opera

25th January 2012: Well, I obviously haven't learnt my lesson from the last full-length play I was in, because I'm in the next one as well, only this time I'm on stage for almost the entire play. Although I really only have myself to blame, because as I read this play I was practically begging for it to be chosen, and jumping up and down in the audition going "ME! ME! ME! ME! ME!"

And so on the Sunday 12th - Saturday 18th February (2.30 p.m. Sunday, 7.30 p.m. all other days), Durham Dramatic Society present Glorious! by Peter Quilter. It's the true story of Florence Foster Jenkins, the worst opera singer in the history of the world. I play Cosme McMoon, her very patient pianist. This play features live music from myself and Catherine Racine as Florence (who incidentally is actually a good singer trying hard to get it wrong). Unfortuantely, ear-plug are not provided. It is also a surpisingly moving story about the kindess of a well-meaning but sadly deluded woman wanting to realise her dream as a beautiful soprano.
Once again, tickets are sold at the Gala Theatre Box Office. But we perform at the City Theatre. That's box office: Gala Theatre. Venue, City Theatre. Got that? And remember that if you book the the phone or online you'll need to pick up the tickets from the Gala, so don't leave ituntil Sunday to pick up Sunday matinee tickets because you can't.
Oh, and whilst I'm on the subject of DDS's full-length plays, here's the full line-up for the year:
February 12th - 18th:


Glorious!

by Peter Quilter, directed by Kate Lawrie

April 22nd - 28th:


The Aspern Papers

by Michael Redgrave adapted from the novel by Henry James, directed by Theresa Mulkerin

June 24th - 30th:


Seperate Tables

by Terence Rattigan, directed by Tess Hagger (which I will be shadowing)

September 23rd - 29th:


The Rules of the Game

by Luigi Pirandello, directed by ALan Godfrey
November 25th - December 1st:


Loot

by Joe Orton, directed by Mike Smith

This list is also on the website if you don't believe me, but this version's here for W3C compliance fans.

Box and Cox

and other rehearsed readings


14th January 2012: Sorry for the short notice, but I've only known about this myself for a few days. In spite of being ludicrously busy with other projects, I've agreed to be in a rehearsed reading next Friday (20th January), possible because, when Tess Hagger asked, I forgot what was English for "No". It's called Box and Cox, and I honestly don't know anything about it except that it might be this play. Apparently, this event also includes one of Roy Farmer's stories, but other than that your guess is as good as mine.


This is another members-only event, if you're not a member you'll have to wait another month (more on this later). Whilst I'm on the subject of rehearsed readings, here's the line-up for the full year:
January 20th

Box and Cox by John Maddison Morton, directed by Tess Hagger (but presumably you already know about that one)

March 9th

AGM, followed by

The Eccentric

, which I'm in (with all of three lines)

May 18th

Something from Janiece Spence

September 3rd

Something from Peter Sutton (last year it was a Gilbert and Sullivan evening - eagerly waiting for word on this year)

October 12th

Something from me (please bear with me, already planning this, will announce something ASAP)

November 9th

Something from Charlotte Bond

December 7th

Christmas Party

There's also a line-up of social events not involving acting, but you can see the full list here (scroll down to item 3). I'll aim to keep this list updated as and when I find out information, but this is all I know right now.

Photo Gallery


14th January 2012: Oh, and in case you've missed the big red "NEW" in the contents page, I've now got a Photo Gallery of my play and the two others from the New Writing Festival for your enjoyment. If you recongise yourself or anyone you know if these photos, please by all means link to this site. Especially links from publicly-viewable sites that Google can pick up. Not that I have any particular interest in that. Obviously.
Christmas social
26th November 2011: I know Blue Remembered Hills hasn't even started next, but I already have my next project lined up, which is a short play for the Durham Dramatic Society Christmas social at 7.30 for 8.00 p.m. on Friday 9th December. I can't give you any more details right now because that would be a spoiler.

This is an internal members-only event, so if you're not a member of Durham Dramatic Society you'll have to miss out. For any DDS members who haven't been to one of these before, the Christmas social usually involvesseveral different contributions from various members, but I don't yet know who else is involved. Hopefully you've all been told about the bring-your-own-food arragement, so I won't repeat that here.
That's not the exciting announcement I was talking about by the way. That is still to come.

What are those blue remembered hills, What spires, what farms are those?
12th November 2011: Now that I've got the drama festival out of the way, I've been putting my energy into acting in Blue Remembered Hills, on 2.30 p.m. Sunday 27th November, then 7.30 p.m. from Monday 28th November to Saturday 3rd December. This is a charming Dennis Potter play recalling the lives of seven-year-olds in a story as quaint and heart-warming as any Dennis Potter play. Highlights include cruelty to squirrels, fights, and politically incorrect descriptions of Italians. There's also a notable ending where I have the starring role, but it's probably the bit with the squirrel which some viewers may find upsetting.
Seriously, it's a damn good play, and I wouldn't have asked to be in it so soon after the drama festival if it wasn't something I really wanted to be a part of. With the demise of Durham's Tourist Information, tickets are now being sold via the Gala Theatre Box Office, which can be done in person, by phone or online. BUT ... if you book by phone or online, you will need to either collect the tickets from the Gala or get them posted to you. Do not, I repeat, DO NOT, book tickets for the Sunday Matinee and expect to pick up the tickets on the day, because the Gala Box Office don't open on a Sunday until the play starts. And you'll be a plonker.
UPDATE 26/11/11: It has come to my attention that some people who read this may have not picked up some of the subtleties of the first paragraph, and consequently have misunderstood what to expect in this play. If you have not already clicked on the link to the Wikipedia article, I would advise doing so. Wikipedia articles on stage/TV plays aren't always reliable, but this one gives a pretty good indication of just how much of a feel-good evening lies in store.

At last! I have a website.
7th November 2011: Yes, I've done it. After a few years of thinking about doing a website, I have finally got round to making one. So, err, hello, you must be the reader. Since I haven't attempted to push this page up the Google rankings, how did you find it anyway? Feel free to contact me if you fancy sharing this information.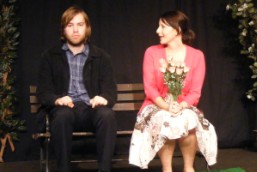 This is not intended to be a marketing site for my work, because I've never been a fan of self-promotion (although if anyone fancies writing a glowing review of my work, I reserve the right to selectively quote you at a later date). Rather, it's intended as a quick reference for anyone who wants to know what I'm up to or needs to get in touch. I may add some more stuff another time, but that's your lot for now.
In the meantime, huge thanks to everyone who came to see my play, The First Sign of Madness, in the New Writing Festival on the 30th September - 1st October. It was an amazing weekend to see so many old faces and new faces filling up the theatre for something we've never done before. Thanks to everyone who took part in my play, and the other two plays (Plan C by Alan Godfrey and Crossing the Line by Chris Joby), but the biggest thanks of all have to go to Nicki Doyle who played the lead role of Joanna truly exceptionally.

At some point I will decide what to get up to next, but believe me, right now I want to go to sleep for a month.